If you are tired with the traditional bathroom set-up, you need to think about the new bathroom vanity. It will give the bathroom more space and a refreshingly new look. You may choose from the various styles of units and the materials used for making them. To meet your specific needs and expectations, a variety of choices are available along with numerous styles of units. You would not worry much if your budget is very high.
Before choosing the vanity, you need to take proper measurements using a measuring tape. Also, take care to choose the right style, so there is a good flow in the room. You can also buy such a set from online stores. The Internet provides you with several companies offering various styles and designs. As these companies compete, the customers are at an advantage. Customers usually get good deals when the market is competitive. Unlike the physical stores, the online stores do not have overheads such as staff members, office assistants, cleaners and so on.
Characteristics of a bathroom
The modern bathroom style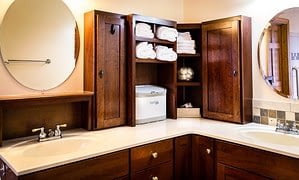 As far as styles are concerned, you may choose among transitional, modern, or antique-looking styles. The modern style provides a vessel sink, which gives a clean look to your bathroom. If you have an excellent budget, you can opt for an antique-looking style which will go well with the decor of the house as well. The selection of the style and design depends on how much money you want to spend to give an appreciable look. The major advantage of modern bathroom vanities is that they occupy very less space.
A modern single bathroom vanity includes a fixture along with a cabinet, a sink, and a counter that allows you to store several items below. If two people want to use a bathroom simultaneously, a double vanity is a good option as it reduces the waiting time in the morning. An ordinary sink will allow you to run the water while brushing your teeth, washing your face, shaving, or applying your makeup. A bathroom vanity along with its features mentioned above also provides a cabinet where you could store linens and towels, makeup bags, shaving tools, cleaning products, and hair tools.
Vanity cabinet
To avoid the restriction due to bulky furniture purchasing, a vanity cabinet will be an easy method to design and give a new look to your bathroom. The floor of your bathroom must match with the paint on the walls. To avoid an accident, you will have to use non-slippery tiles. Aluminum tiles offer with a shine and are great to use. For your walls always use light-colored and eco-friendly color. Take care of the ventilation purpose as well. To keep the bathroom germ-free and clean use good quality bathroom cleaners.
Items in the bathroom should match
As bathroom gets wet very quickly, its maintenance should be done very carefully. It is crucial that your mirror and other items match with your bathroom vanity. So, before choosing the bathroom vanity, take a photo of your existing pieces when you go shopping in the store. Bathroom vanity offers you with two basic styles–the cabinet base style and the pedestal style. It depends on your choice to bring at home what suits your needs. Pedestal vanity requires less space to install. …