It is the goal of everyone to own a place to call it as your home. If you are young, then you probably are debating if you should rent an apartment or buy a home/ condo. But, this is really an interesting question, specifically if you want to live in a big city for the next few years.
For many people, renting sounds better these days than paying a huge amount of money to buy a home. While for some people buying a home is more about an investment. Having an own home reflects the financial stability of a person, thus increases his/ her social security and status. When the time comes to decide on whether to rent an apartment or buy a home/ condo, one has to consider a combination of practical and financial factors.
Pros and cons of buying a home/ condo
Buying a condo is a great idea, irrespective of all the benefits and disadvantages of making the plunge.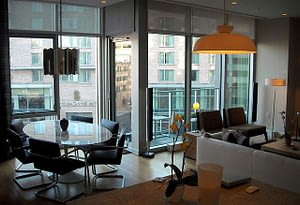 The following are the pros and cons of buying a home:
Pros
Unlike rent, mortgage payment remains constant. They do not increase after you take a loan. You can enjoy the general maintenance benefits of having a condo. Every payment made on your condo is actually an investment so that you can cash in on when the time comes to sell the asset. Condo owners are eligible for various tax deductions, including property tax, mortgage interest, PMI deductions, etc.
Cons
Condo owners have to pay homeowners association dues monthly. If you want to move to another city at short notice, it becomes challenging to sell your house as quickly in the market as a single-family home. There is a potential for delinquency for condo owners. If you drop out of paying your association due for some reasons, the dues go up for everyone to cover this fund shortage.
Pros and cons of renting an apartment
Living in an apartment provides a lot of options.
Pros
While renting an apartment, you have the flexibility of choosing a short or long term lease. You do not have to worry about maintenance as this would be the owner's responsibility. There are lower upfront costs, renting is affordable than buying a condo.
Cons
House rent increases over time, and you cannot enjoy the tax deductions, unlike the condo owners. Renting is not a long term investment. When you rent an apartment, you are giving away your money to the owner with no chance of getting some of it back through appreciation when they sell the unit.
The answer to the buying a home vs. renting an apartment is complicated. Before coming up with a final decision, consider the options and do some calculation to decide which route is best for you. Whether you opt to buy a home or a condo, or you want to rent an apartment.…